Main Content
The Apps
Powerful photo gallery apps for your photos and videos
Features
Show Your Photos In Style
ANIMATED SLIDESHOWS

Play photos and videos in animated slideshows with background music

AUTO UPLOADS

Automatically back up your photos and videos

FIRE TV & ANDROID TV

Easily show photos on your TV and change slides using your remote control
AUTO DOWNLOADS

Optionally auto download photos for fast offline viewing

MULTIPLE ACCOUNTS

Access multiple accounts from one app

MUCH MORE

Chromecast, Passcode Lock, and More!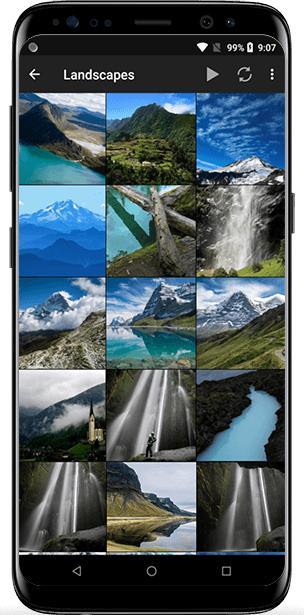 Top Rated Apps
Customer Reviews
GREAT APP! FANTASTIC support!  the best customer service I have ever had on an app!  The program is great! easy to use! makes my old slow Galaxy tab3 into a fun photo frame for my desk.
A Google User via Google Play
I have been using this app for some time now, and it is simply brilliant.  This is the best app for Flickr photos, as the picture presentation is stunning. This app only has one job to do and it oozes quality whilst doing it.
A Google User via Google Play
This app is fantastic — as are the other related apps for similar services from Snapwood. They are super simple to setup — just log into your Google Account — and then the app syncs everything up with tons of user-friendly options to customize the way the photos are displayed. Not only that, but the developer provides fantastic support via email. Can't recommend, enough, if you're looking to keep your Google Drive or Google Photos in sync on your android device
Owen S. via Google Play
Best app for cloud access!!!! Trust me when I say I have tried them all…. This company makes the best apps for accessing all your cloud storage… Wish they made apps for Windows…
A Google User via Google Play
This app is amazing and is everything that Google should have included in it's own photo app. I cannot recommend this product enough if you are looking for a good slideshow app!!
Nick R. via Google Play
Suck it up and pay for it! Best storage app you can have.
Megan M. via Google Play
Slideshows
Animated Photo and Video Slideshows
Turn your tablet or TV into a digital photo frame!
Select Display Time
Choose how long slides display, from a single second to as long as 24 hours
Dozens of Animations
Select from over a dozen slideshow animations from the Ken Burns Effect to Normal Swipes and Fades
Slideshow Music
Play music during your slideshows
Auto Play Videos
Play videos inside your photo slideshow
Slideshow Auto Refresh
Slideshows can automatically detect new content every hour to update the photos and videos in the running slideshow
Customize Albums
Slideshow all albums in your account, a single album, or pick and choose which albums to include in the slideshow
Random and Repeat
Randomize and repeat to shuffle it up
Auto Start Slideshows
Slideshows can automatically start when the app is started